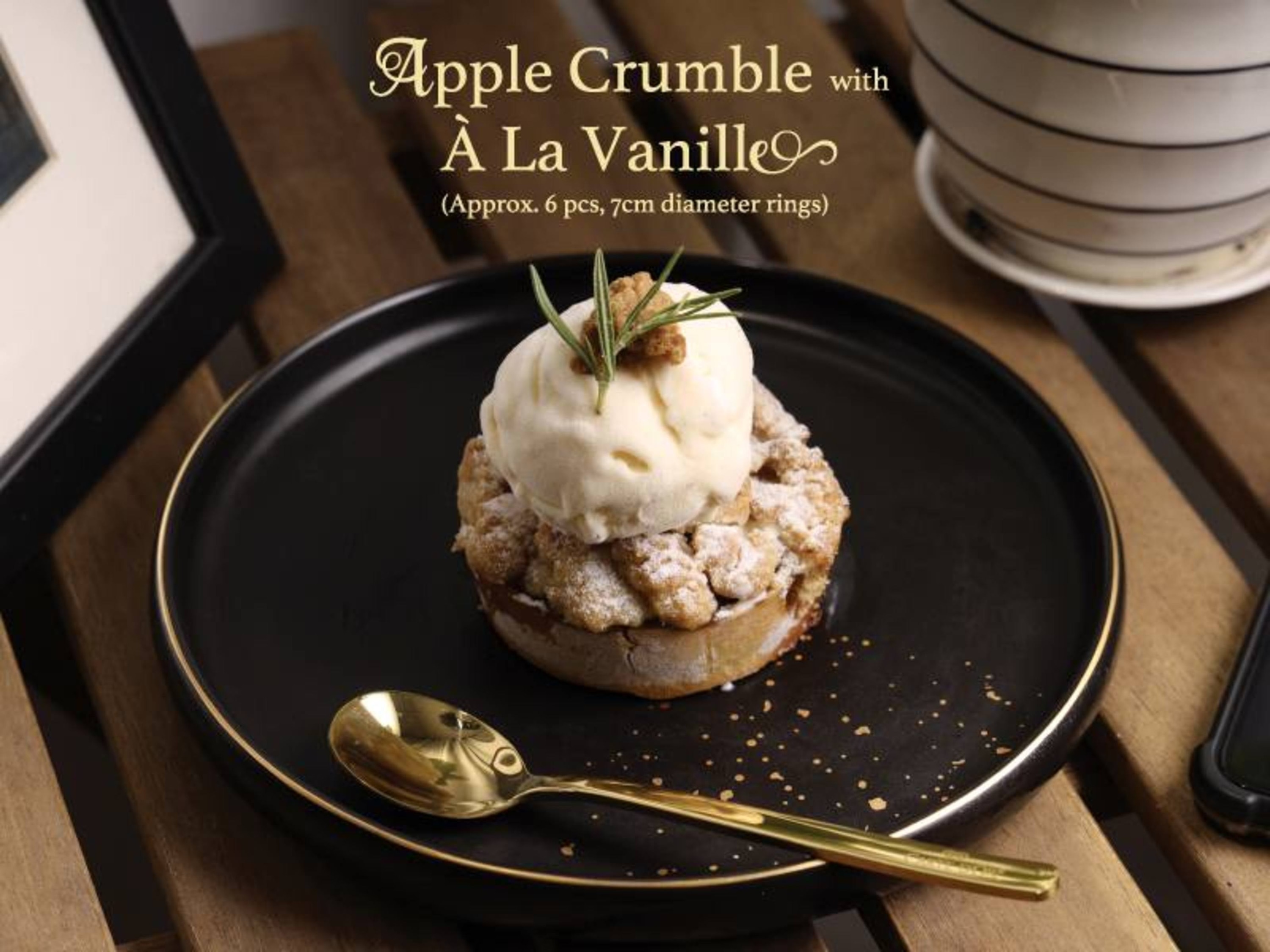 Apple Crumble a la vanille
Don't pass that Apple Crumble of Carte D'Or!
Ingredients
250 grams green apple cubes
33 gram sugar
1 teaspoon vanilla essence
25 gram butter
190 grams flour
120 gram brown sugar
2 gram cinnamon powder
2 gram salt
140 gram butter
250 grams flour
150 grams butter
62,5 grams icing sugar
2,5 gram salt
1 egg
How to make
Cut 250g or 3 to 5 apples into small cubes.

Place all the ingredients into a pot and cook on medium heat until the apples soften, and the liquid has evaporated.

Place aside to cool.

In a bowl, mix sugar and cold butter cubes together.

Rub in the remaining dry ingredients together with hands until a sandy texture is formed.

Once you can create bigger crumbs and the mixture looks less dry, you can stop and leave the mixture in the fridge to stay chill before use.

Place flour, cold butter cubes, sifted icing sugar and salt into mixing bowl and with paddle attachment/electric mixer, mix the ingredients together until it forms a sandy/ crumble texture.

Slowly stream in the egg and mix at low speed till the mixture forms a dough.

Once the dough has been formed, let it sit for at least one hour before prepping the tart.

Create the desired shape of the apple tart and bake the pastry shell first at 150 Celsius for about 20 mins until edges are slightly brown. Remove the pastry shell from the oven and fill it with apple filling and topped with crumble.

Continue to bake at 175°c for 10 minutes until crumble is golden brown.

Remove from the oven and plate with a large scoop of vanilla ice cream and other toppings.
Per serving
| Title | Per serving |
| --- | --- |
| Salt (g) | 814.514 kcal |
Delicious Recipes
Experience fluffy pancake perfection with our delightful recipe. Enjoy the airy, golden texture that melts in your mouth. Top with your favorite syrup, fruits, or toppings for a breakfast indulgence like no other.

6

people

Hard

20 min

0 min
servings

people

difficulty

prepTime

cookTime